Devotion of the week:
Baptism

I have been listening for the past couple of weeks as people have debated over the subject of baptism. Some believe that you are saved by baptism and therefore can not get into Heaven if you have not been baptized. Others believe it is not important whether you are baptized or not, just so you have asked forgiveness of your sins and been saved. I am going to tell you what I believe about the subject of baptism this morning, and I am going to leave you with scriptures to read and study this week so that you can come to your own conclusions.
I believe that at the moment we pray the sinners prayer, with a sincere heart, asking for forgiveness of our sins and inviting the Lord to live within our hearts, we are saved! Right then. Period. I believe that, and I believe that the scriptures will back that up. NOW... that being said..... I do believe that baptism is very important to be completely obedient to the Word. I believe that if we have been saved, then we should... we WILL desire to be baptized, because His Word tells us to do that. But does the water itself save us???? I think not! I believe that we are saved by the blood of Jesus Christ! When we give our lives to the Lord, and ask for His forgiveness then He saves us by His grace! Water baptism, to me, is a symbol of the death, burial, and resurrection..... We all know that when we become saved, we are new creations. Old things have been washed away by the blood of Jesus, and we become a new person in Christ Jesus. Therefore, to me, when we go to the water to be baptized, we are symbolizing that the old person - the wretched sinner-- has died! We step into the water and that old sinner is buried and we rise up out of that water a NEW BORN AGAIN CHILD OF GOD and go forward from that moment on living our lives for Him.
Now that is the way I feel about baptism. You may have a different view of it. I am going to leave you an article today that I borrowed from someone else for this study, and I ask you to read and study these scriptures this coming week and come to your own conclusions about baptism.


Basic Doctrines:
Water Baptism
by Richard T. Ritenbaugh
Forerunner, "Bible Study," May 1995
"The doctrine of baptisms" is a foundational and fundamental teaching and belief of the church of God (Hebrews 6:1-2). In fact, church historians who have traced the progress of the true church use baptismal references as a significant part of their search criteria. Yet, though it was clearly practiced in the New Testament, churches today are in total confusion about baptism. Some do not practice it at all. Some sprinkle water on the new member, some pour, some immerse. Some baptize children, and some even baptize for the dead!
Besides the method that is used, many do not understand the reasons for and significance of baptism. Although it is a physical ceremony, the lessons and effects of baptism are spiritual. By it, we demonstrate to God our sincere decision and determination to live His way of life, and show our belief in and acceptance of His Son's work on our behalf. By it, God purges us of our sin and then gives us the power by His Spirit to live righteously before Him. Baptism is a springboard that enables His children to "go on to perfection."
1. Is baptism commanded by God's Word? Acts 2:36-38; Matthew 28:19-20; Mark 16:15-16.
Comment: Clearly, baptism is a commanded ordinance for those who would be saved. Though it is strictly a physical ritual, our participation in it shows the sincerity of our repentance, our belief of His Word, our desire to obey God and our acceptance of what Jesus Christ did on our behalf. It is such an important beginning to our Christian lives that Jesus says that "unless one is born of water [baptism] and the Spirit [by a laying on of hands (Hebrews 6:2; Acts 8:17)], he cannot enter the kingdom of God" (John 3:5).
2. Was Jesus baptized as an example to us? Matthew 3:13-17.
Comment: Though He had never sinned, Jesus went through the rite of baptism "to fulfill all righteousness." He did everything a truly righteous man should do, so we could learn from Him. As our perfect example in all things (see I John 2:6; I Peter 2:21), He came to John to be baptized to show us the steps we must take to reach the same destination He did—the Kingdom of God.
3. Is baptism a sprinkling, a pouring or an immersion in water? John 3:23; Matthew 3:16; Acts 8:38.
Comment: These verses give conclusive proof that the original method of baptism was by immersion. John needed an abundance of water to cover his followers completely. Jesus' example shows that He "came up . . . from the water" because He had been in it. Philip and the Ethiopian eunuch "went down into the water." In addition, "baptize," from the Greek baptizo, means "to immerse," "plunge into" or "put into." Two entirely different words are used in the Greek text to refer to pouring (cheo) or sprinkling (rantizo).
4. What are the conditions that must be met before one is baptized? Acts 2:38; Mark 1:15; Acts 8:12.
Comment: From these three verses, we understand the two prerequisites for baptism: repentance and belief of the gospel of the Kingdom of God. The people of Acts 2 showed by their reaction that they believed what Peter had preached (verse 37), and thus they needed only to repent of their sins and their human nature before they were baptized (verse 41). One need not be a Bible scholar or be living perfectly to be baptized; these things are part of growing in the grace and knowledge of Jesus Christ after baptism (II Peter 3:18).
5. When should one be baptized? Luke 14:28-33; Acts 8:12.
Comment: In these verses of Luke 14, Jesus explains the principle of "counting the cost." The candidate for baptism must be able to discern the terms of God's offer for salvation before making such a monumental decision. He must be mature enough to understand what God desires of him, to repent and to believe the gospel. A new believer should be baptized as soon as possible after he has come to this point in his calling (Acts 8:35-38; 9:17-18). The apostles' example in Acts 8:12 shows that they baptized only adults who had met the qualifications of baptism. Thus, this would rule out children and—obviously—the dead (I Corinthians 15:29; Paul is ridiculing the practice).
6. Does baptism symbolize one's belief and acceptance of Christ's death, burial and resurrection? Colossians 2:12-13; Romans 6:2-6.
Comment: Symbolically, our baptism imitates what our Savior did for us, and therefore, by our participation in it, we show our desire to be united—at one—with Him in both His death and resurrection (Romans 6:5). Paul writes in Galatians 2:20: "I have been crucified with Christ; it is no longer I who live, but Christ lives in me; and the life which I now live in the flesh I live by faith in the Son of God, who loved me and gave Himself for me." This is what our decision to be baptized tells our Father in heaven.
7. Is water baptism also symbolic of being cleansed of sin and living a new life? Same verses.
Comment: Being put into the water represents the death of the "old man" with his sinful way of life. Being completely covered by water symbolizes burial, and being raised from the water pictures a resurrection to "newness of life." After baptism we consider ourselves dead to sin, that is, we have completely divorced ourselves from living a sinful way of life (Romans 6:11). Once baptized, we are to give our lives to God and use our time to become "instruments of righteousness to God" (verse 13).
8. Into what are we baptized? Matthew 28:19; I Corinthians 12:13.
Comment: Baptism also serves to induct us into God's church and Family. We are literally baptized into the name of God. It becomes our Family name, and we have a great responsibility to uphold it (see Exodus 20:7; Proverbs 22:1). Afterwards, when a minister lays his hands on us, God gives us of His Spirit, and we truly become Christians, members of the body of Christ. And because we have God's Spirit in us, we become God's children and heirs with Christ of all things (Romans 8:14-17; Hebrews 2:5-13)!
I challenge everyone of you that reads the scriptures that I have left here for you today, to study and pray and then come back and scroll down to the bottom of this page to the guest book, and send us your comments about what the Lord reveals to you from these scriptures. Have a blessed day!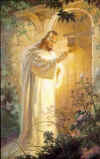 Worship Schedule
NOTICE: We are only having the online worship services right now. The thrift store is currently closed until further notice. We are still accepting donations for the thrift store as we are working on getting re-opened very soon, but for the time being, we are keeping it closed, and just putting some of the merchandise out in "yard sales" in front of the building as weather permits.
I have never liked to watch or listen to any preacher, church, or ministry that would get up on tv or radio or whatever and immediately start asking for money. So the request I am about to make here right now is like a bitter taste of medicine to me. But the fact is, our Ministry is in desperate financial need right now, and we absolutely need your help to keep going any longer. Maybe you think, "oh someone else will give, so I just won't mess with it", or "well, my gift would be so small it probably wouldn't help anyway", or whatever..... please don't set back and think someone else will take care of it. Please pray about it and help us out here. Maybe you are not presently attending a church but have been praying for somewhere that you could tithe.... Maybe you are attending and tithing into your own church, but the Lord would lead you to just make a one time LOVE gift into our ministry.....No gift will be too small. Some of you could give 100 dollars, some of you could give 50... some maybe could give 10 or 20.... and some of you might only be able to give a dollar or 2.... please know that whatever the amount of your gift, you will be blessed for it. And at this point, if we do not get help, this ministry is going to suffer. We already have had to make a choice between paying the rent and electric bill rather than the internet bill. There just was not enough money to pay all three. And as you know this is an ONLINE ministry, so without the internet, we obviously can not keep it going. PLEASE pray about a one time love gift of whatever amount you can give to help us meet this bill before they turn it off. Thank you, and God bless you.