Here we will tell the story of the beginnings of our ministry and how we became what we are today.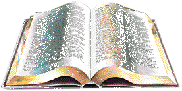 For many years I knew in my heart that God was calling me as a missionary, but I (as so many others have)fought that idea "tooth and nail". I just couldn't see how I could possibly be a missionary. I thought that to be a "missionary" automatically meant that I had to go somewhere far away and minister to people. And to be honest, not only could I just very simply not afford that; I just really didn't feel "qualified" to do it. That calling was confirmed more than once in church services at different locations, when an evangelist would literally call me out and tell me that the Holy Spirit had spoken to them and told them that I was GOING to be a missionary. I finally realized that being a missionary, as the Lord wanted me to do did not necessarily mean that I had to go anywhere, since there was plenty of mission work that needed done right in my own area and areas close to home.
Our ministry was actually founded in 1997, while living in an area that was very highly populated with hispanics, who had neither Bibles, nor churches available for them to attend. We began by ordering one little box of Bibles in spanish, and going door to door, handing out those Bibles and witnessing to the hispanic people there, and it just "blossomed" from there. We ended up needing to order more and more Bibles, and the word spread amongst the community there and people even began coming to my house and knocking on my door wanting to "buy" a Bible. Of course I always told them, "No. We do not have Bibles to sell, but please come on in, and let me give you one." The Lord moved in that ministry there, and changed lives, and some of those same people are now pastoring churches of their own, and the last time I was in the area, there were at least 4 hispanic churches that had been started! We are presently an independent home based church, meeting twice weekly for worship and Bible Study. (Now--saying that, let me say this-- after creating this website and publishing it to the web, I realized that there are several sites with the name "Full Life Ministries". I am sure these are all wonderful sites with wonderful ministries, but I feel that I should state here that we are not affiliated with any of these in any way. We are an independent ministry.)

There have been many "bumps" along the road over these past few years, but I am thankful that in the end, with each challenge we have encountered, we became stronger in our faith.
We may provide links to other sites that have been inspirational in our ongoing efforts to do the work that the Lord has called us to do.
We invite you to become a part of our ministry today and a piece of its history tomorrow.